Monday 1st May 2017 at Brunel's SS Great Britain.
As Reg and Simpkins visit the historic docksides of Bristol, we flashback to 1852 and witness an untold voyage of the SS Great Britain between Newtown and Melbourne!
As the ship departs Newtown harbour, tavern wench Georgina smuggles aboard and ingratiates herself with the crew (including romantically with ship-hand Harold). In the first class cabins Lady Constance can see through Lord Reginald's love poems, knowing he only wants to inherit her father's mining fortune. She seeks to start a new life in Australia and finds a kindred spirit in warm-hearted chancer William de Burgh – while Lord Reginald too falls for another, in ship's maid Susannah Shlovely.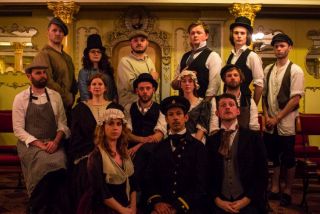 Prisoner Richard Johnson 'The Large' has been brought aboard to face justice in Australia. He manages to turn Chief Engineer Spencer and ship's cook Simpkins against Captain Pablo and stages a mutiny, ultimately ending in the Captain's poisoning and death! Richard Johnson assumes the captaincy and with his new powers, marries the three couples as well as himself to Spencer!
More photos from this episode here.
Memorable Moments:
Captain Pablo making a sacrifice to the "Sail Away" sirens whilst passing the Orinoco Strait.
The momentary carnage onboard as the ship survives a titanic encounter with an iceberg.
All the crew coming out on deck one by one to take part in the traditional morning stretches.
Lady Constance and Lord Reginald gazing out of their porthole at sea creatures, passing ships and a desert island.

"Quick-witted, very watchable ensemble, razor-sharp in timing and delivery."
– ★★★★ Stage Talk
Will these historic revelations have any kind of effect on the wider community?
Where will Reg and Simpkins visit next on their history travels?
Were these stories just tall tales or was their some truth to these historic happenings?
Find out in Episode 10 of Closer Each Day: The Improvised Soap Opera.